Stop in to our Grafton Harbor Floating Winery to taste some of our wonderful wines and purchase a bottle or two to enjoy!
Our floating tasting room, located at Grafton Harbor. Hours vary by season, so give us a call at 618-786-76578 for more info.
Check out a selection of some of our favorite wines below.
Available for tasting...
Iced Coffee Wine
Chocolate Wine
Mint Chocolate Wine
Our wines (featured below)
+ many more wines from throughout the world!
Wine Slushy Menu...
Blueberry Pomegranate
Strawberry Mango
Peach Bellini
Dry Red Wine
Our Nauti Wench is a dry Norton and Chambourcin blend with a hint of raspberry and cherry. Its cool long fermentation produces a wine that boasts of a crisp freshness. Your Nauti Wench will have you walkin' the plank ye matey if you don't stock this in her wine cellar!
Premium Dry White Wine
Blimey! This crisp, full bodied, superior, dry white wine is bursting with aromas and flavors of citrus, melons and vanilla!
Blackberry Table Wine
Hearty Blackberries and Bouquets Devine, Shall turn Your Love into Mine All Mine!
Blend and Awaken the Powers of Old, For a Pirates' Love is More Precious than Gold!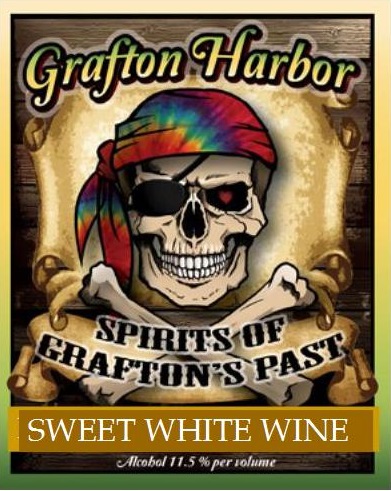 Sweet White Wine
Spirit of Grafton's Past is for those who have a bit of a sweet-tooth in their wine taste! While it is on the sweeter side, we think you'll find this to be a well-balanced wine with x, y & z tasting notes.
American Semi-Sweet Rosé
Our Liquid Panty Remover is a light and refreshing, semi-sweet wine with a distinct grapey Concord character. Our long cool fermentation preserves the fruity nature of the grape making it a crisp tantalizing wine for your special someone!
Semi-Sweet Table Wine
Our luscious semi-sweet white wine expresses a light crisp balance that boasts of orchard sweetness. Its light, wonderful flavor excites any Tipsy Mermaid!